NOTE: THE SHOMPOLE HIDE IS CURRENTLY CLOSED DUE TO THE RAINS HAVE STARTED.
The Shompole Hide will reopen around mid December 2023, however there is still a lot of water lying around so the hide will NOT be very productive.
The Shompole Hide has quickly become very popular. This has been to the help of Will Burrard-Lucas who we teamed up with, and also to the well thought out location of the Shompole Hide.
It has taken a long time in the making but we we hope we have managed to get most things right. (We have asked a lot of people a lot of questions and have had some great advice too).
The Hide is 4.7 kms from the nearest water, making it an attractive spot for birds and mammals to quench their thirst. Have a look at our Instagram page
The Shompole Hide is out on the open dusty plains with a thicket on the eastern side, long open views of Mt. Shompole to the south and the Great Rift Valley wall in the distance to the west.
The hide has open sides (no glass), there is space for up to 6 photographers, the area is very dusty with long views so you can see the animals coming in and getting some low angle dust shots.
Lighting at the night is specialised. Giving the photographers flexibility in front, side and back lighting options.
Animals seen and photographed:-
Lion, Leopard, Elephant, Giraffe, Spotted Hyena, Stripped Hyena, Aardwolf, Buffalo, Eland, Zebra, Wildebeest, Waterbuck, Lesser Kudu, Impala, Warthog, Baboon, White-tailed mongoose, Banded mongoose, Egyptian mongoose, African Wild Cat, Caracal (rare sighting), Porcupine, Vervet monkey, Squirrel.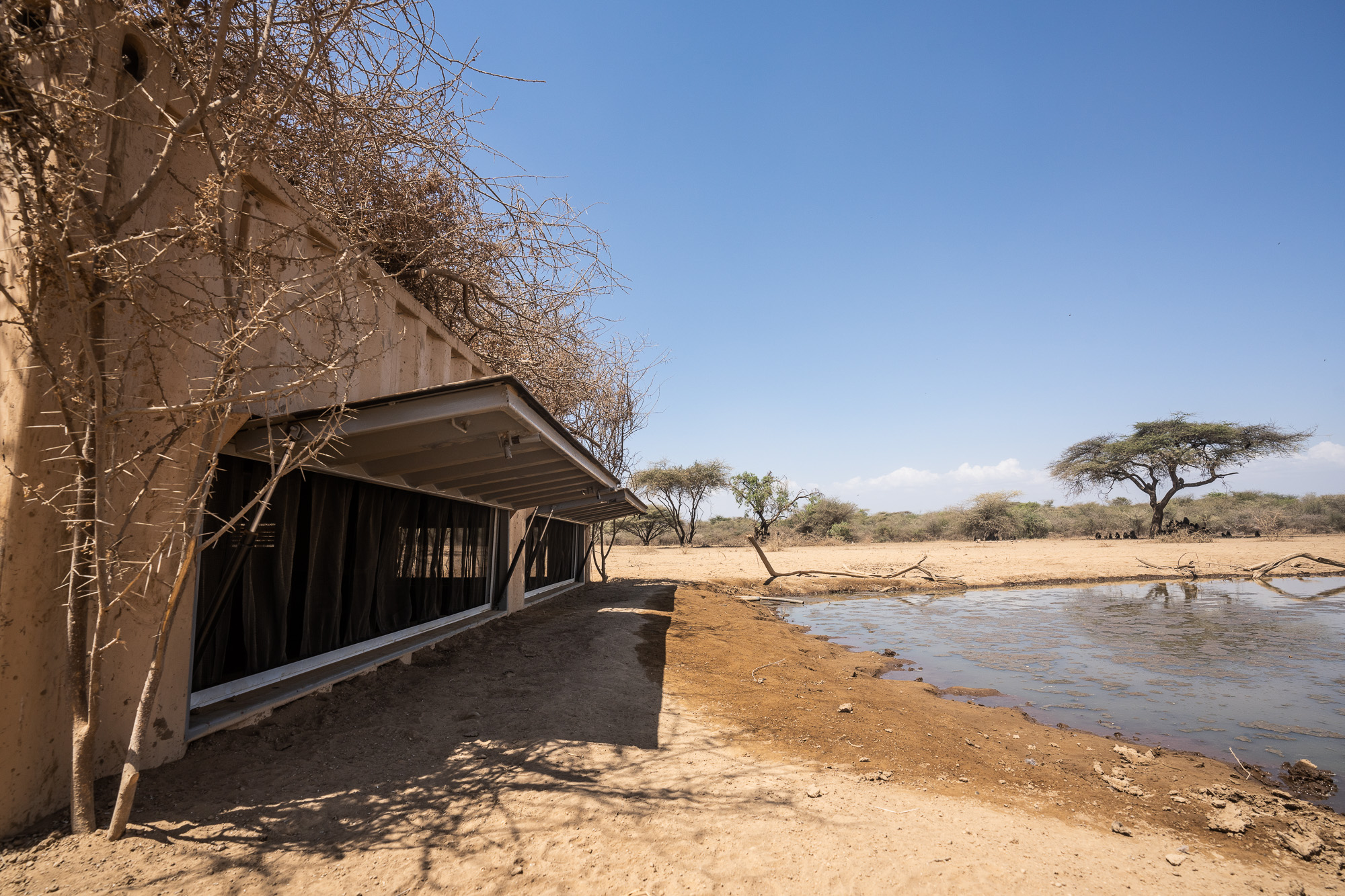 to Tom and Celia O'Connor and Will and Natalie Burrard-Lucas. Without your support we would not have been able to launch the Shompole Hide.
There was over 30 local Maasai from the Shompole community who helped in this particular project and they in turn went to further support their families.
There is no charge for Shompole Wilderness clients who have taken the camp on an exclusive use international rate basis. (Please find out more about the Shompole Hide costs).
There is a charge for those not paying the exclusive international rate. Contact us for information.
Johann du Toit the owner of Shompole Wilderness teamed up with Will Burrard-Lucas who has come in to perfect aspects of the hide , giving great advice and his wealth of photographic knowledge. Read more about the hide from Will's blog post.
A THANK YOU also to the Shompole leaders and Shompole community who have also understood and supported this project. Ashe O'leng.
Shompole Hide information.
2 x 20ft containers sunken into the ground.
Provide ground level photography.
270 degree view!
It is out on the open plains.
Open sides, but netted (no glass).
Faces South to get the best of the stars and Mt. Shompole.
It has a flushing toilet.
3 beds.
6 photographers maximum.
Mirrorless cameras HIGHLY RECOMMENDED.
4 gimbals a 6 bean bags provided.
A flexible lighting system set-up is currently being installed which will allow photographers to light the waterhole from any angle resulting in unrivalled opportunities for creative photographers.
Contact us to book your place in the hide.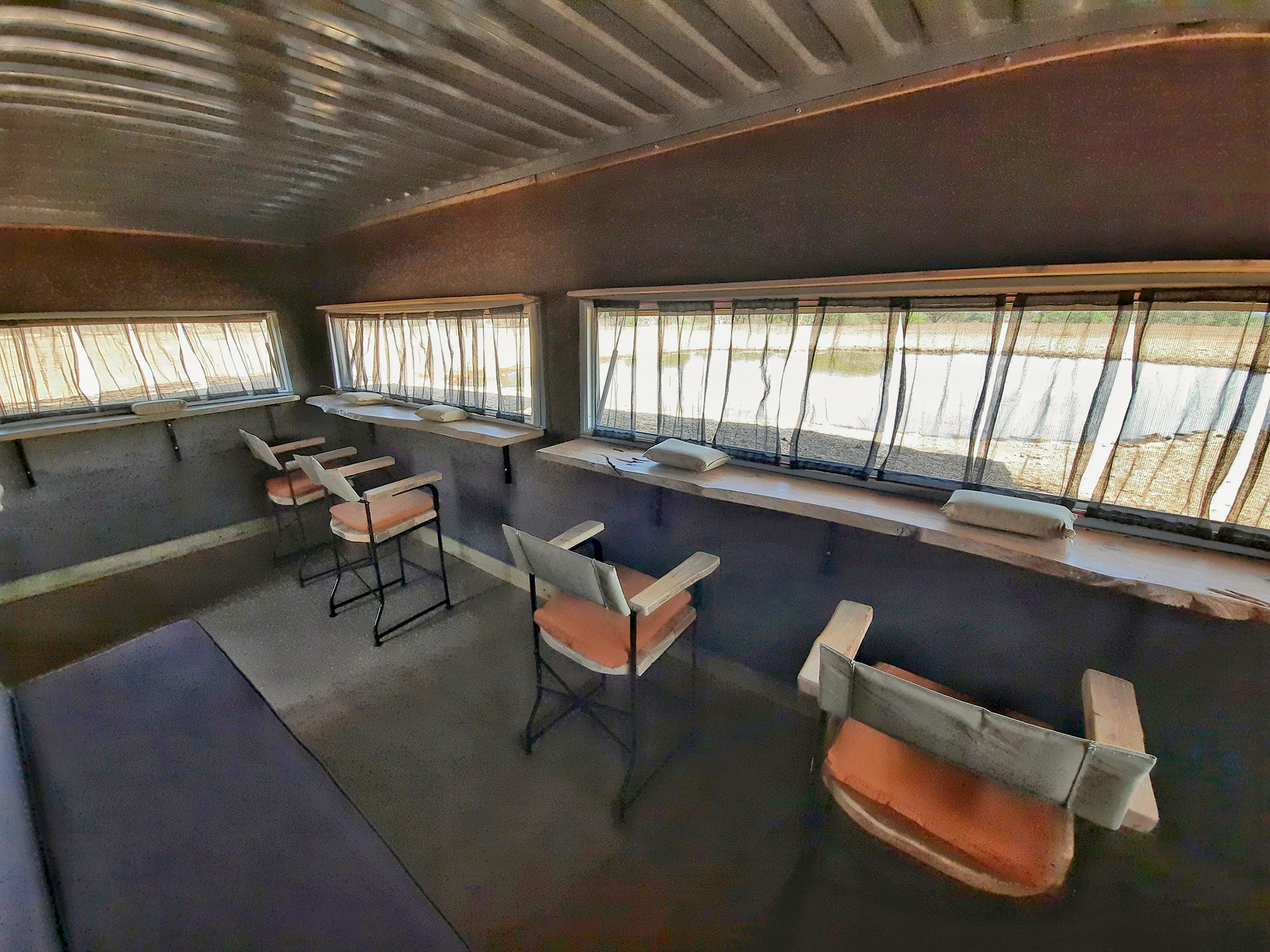 A few SHOMPOLE HIDE photos